Animal Logic II - I.R.S. Three-Page Folder Press Release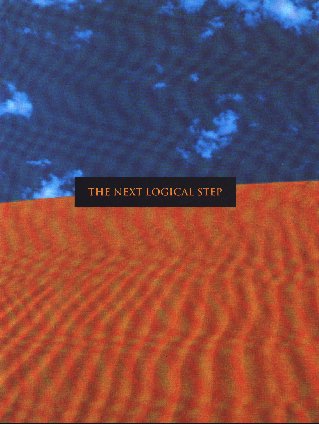 A LITTLE BACKGROUND
The Band first got together in 1987, when Copeland and Clarke were booked to play a series of dates together in Brazil. Holland has long been a staple on the Los Angeles music scene, writing songs, teaching piano, and performing with local bands. A tape of her songs made its way to Copeland through a publisher, and her fresh yet classic approach to her craft proved the perfect fit to the elusive puzzle. (Reportedly, when Stewart first heard the songs, he took off running down Sunset Boulevard screaming "Eureka!") As the trio continued playing together, they soon realized that they had created something far more worthwhile than simply a one-off band.
THE FIRST RECORD
This seemingly innocent collaborative teaming resulted in 1989's debut album Animal Logic. A pop fan's dream come true, the first album featured the bright, bouncy grooves of the world-class rhythm section of Copeland and Clarke, over which floated Holland's clean, soaring vocals. Cuts like the first single "There's A Spy (In The House Of Love)", "As Soon As The Sun Goes Down," and "Someday We'll Understand" introduced the band to a wide variety of fans, industry and civilians alike.
The debut album established a solid 150,000 strong fan base in the U.S. The three singles noted above garnered significant airplay at CHR, AOR, NAC and AC radio. The video for "Spy" received regular rotation at MTV and VH-1, while the album and subsequent tour had critics everywhere singing the praises of this new band. The record spent 6 weeks on the Album Network Instore play chart, causing instant reaction amoung consumers. The album's instantly memorable graphics of the three dalmatians popped up everywhere - in displays, print and TV advertising, street posting and merchandise, creating an unforgettable imaging.
THE FOLLOW-UP
This second record is a big step forward - bigger sound, bigger songs, bigger hopes and dreams, bigger animals on the cover (it's polar bears this time)...
Of course, it all starts with the music. Animal Logic (II) (although both albums are self-title, this second record will have (II) on all spines to alleviate retail and consumer confusion) was produced by Tony Berg, renowned for his work with Michael Penn and Edie Brickell. The sound is flawless, as Copeland and Clarke are allowed to concentrate on playing, rather than alsoarranging and producing as on the first album.
The wide appeal of Animal Logic lies in the band's ability to draw fan of both songwriting craft and instrumental virtuosity. As on the first record, Holland wrote or co-wrote all eleven tracks, and her growing maturity as a songwriter is evident in the broad themes and allusions in such tracks as the first CHR single "Rose Colored Glasses" and "Love In The Ruins (Doctor Dear Doctor)." From a playing standpoint, there is no better rhythm section in the world than Copeland and Clarke, and they display their brilliance throughout. There is a much greater sense of their instrumental presence here, and they really kick it out on rocking tracks like "I Won't Be Sleeping Anymore" and Stone In My Shoe."
Giest appearances on Animal Logic (II) include vocal help from Jackson Browne ("Another Place") and Glenn Phillips of Toad The Wet Sprocket ("Rose Colored Glasses"), and instrumental backing from David Lindley and George Duke.
THE PLAN
RETAIL
This is a top priority for the I.R.S. and CEMA field sales and marketing staffs! The first step in our retail campaign involves placing cooperative print advertising in regional entertainment papers across the country upon release to alert fans that the new record is out and available.
Next, our varied p.o.p. material will be used to create exciting displays around the album's striking cover graphics. We will be making two different 4-color posters (one 24" by 36", one door size) with different images, double-sided flates, and 4-color stickers. CEMA's F.M.R.'s will be in your face soon with armloads of polar bears, so keep some wall space free...
And remember, instore play is a proven method of selling Animal Logic records, and this record will move even better than the last one.
Additional promotion at the retail level will include imaging the album's graphics on painted boards or lightboxes wherever applicable, and placing the "Rose Colored Glasses" video on several instore play reels.
RADIO
July 15 will be our start-up date at radio.
At AOR, we will be leading with "I Won't Be Sleeping Anymore," a CD pro of which will ship out July 5. We will be concentrating on the top 30 AOR markets with this track.
Also beginning July 15 will be a major campaign aimed at NAC radio, the fastest growing adult-demographic format in the country. Focus tracks for this album-oriented format are "Through A Window" and "In The Garden."
We will let these formats / tracks lead the way for CHR, and will be taking the first Top 40 single "Rose Colored Glasses" to the CHR station August 20 in a special edition four-color digipak.
Tipsheet advertising will be place in all three formats, and will include teasers, announcements and follow-ups.
TOURING
This band live is truly something to experience - and America will get its chance this fall. In September, Animal Logic will do a headlining tour of mid-size venues (3000 seaters), then in October they will be opening up for Sting in arenas on his continuing American tour. (Look for CEMA's BMR's to initiate a display contest in stores around these tour dates this fall.)
VIDEO
A promotional video clip will be shot for "Rose Colored Glasses" which will be worked hard at MTV and VH-1 as well as all regional outlets.
CONSUMER ADVERSTISING
Print ads will be placed in a wide variety of publications to capitalize on this band's wide appeal. Four-color ads of the album image will be placed in the September issues of Musician, CD Review, and Movieline, and the Octiber issue of Details.
In addition, we will be doing a series of industry ads in Billboard - teasers begin the week of July 13 and continue though July 27, with a full-page announcement ad coming August 3.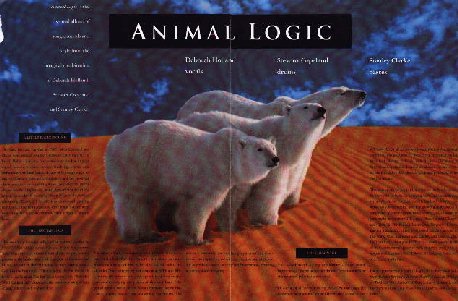 ---
articles | biographies | discography | lyrics | photos | press releases | songs | tour dates
Webmaster © 1999 All Rights Reserved