Animal Logic - I.R.S. Two-Page Folder Press Release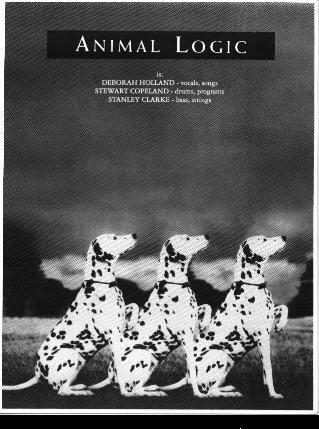 Hearing the music of new I.R.S. band Animal Logic, one is struck by the inherent power and seamless skill of the playing. There are three good reasons why: singer and songwriter Deborah Holland, drummer Stewart Copeland, and bassist Stanley Clarke. Together they make up as formidable a trio as pop music can offer.
With the release of their debut album, ANIMAL LOGIC, the band will no doubt attract immediate attention, thanks to the remarkable pedigrees of Messrs. Copeland and Clarke. Yet the heart of Animal Logic are Deborah Holland's songs and voice. She is a singer of extravagant clarity who writes "about normal things, approached from a slightly different angle,' as she puts it. However, the genesis of Animal Logic is anything but normal.
Copeland and Clarke have been friends for years, ever since the former's pre-Police days as Joan Armatrading's tour manager and the latter's tenure in Return To Forever. Clarke, who as a solo artist revolutionized jazz bass playing with his remarkably fluid and melodic style, has always found opportunities to apply his talents in the rock and pop genre. He's played with artists such as Jeff Beck and the New Barbarians in addition to jazz compadres like Chick Corea, Quincy Jones, and Dexter Gordon. However, he had long desired to explore a band setting. "What drew me to doing a group was my enjoyment of Stewart's unusual style of drumming." Adds Copeland, "Stanley and I had talked for some time about putting a hand together, but not an experimental jazz thing. We wanted a mainstream band, and to do that we needed a singer/songwriter."
The hunt was on to find the right individual but neither Copeland nor Clarke could say precisely who or what they wanted. "We knew what we didn't want," says Copeland, "so it was a matter of 'I'll know it when I hear it."' After sifting through hundreds of tapes, a demoralizing sense of audio fatigue set in. Then, as an afterthought, an associate of Copeland's sent a rough two-song demo by an unknown piano teacher named Deborah Holland.
"When I heard that voice and those songs," recalls Copeland, "I ripped off all my clothes and went running down Sunset Boulevard shouting 'Eureka!!'" From the moment of Copeland's naked joy, things happened fast. Within two weeks, Stewart, Stanley, and Deborah split for Brazil to give the new threesome a test drive on the concert stage. It was first time she had performed before more than 200 people (try 8000!). The trio clicked, and there was no turning back. Upon their return, they entered the studio to begin recording their debut lp.
"Making experimental albums is easy," says Copeland, whose 1985 solo album, THE RHYTHMATIST, was one of the year's most talked about. "Good pop music, on the other hand, is challenging and difficult to make." Who better to meet that challenge than Copeland and Clarke (co-producers of the album), melding their remarkable talents along with Deborah's artistry. "With all of the varied backgrounds of the individuaIs in Animal Logic," says Clarke, "I think our music has a fresh sense of creativity within the rock genre."
Copeland further explains, "Rather than going the usual route of strange musicians trying to be more mainstream, we found Deborah, who speaks honestly from a mainstream voice. We took her material, and applied our wierdetude to it"
You just can't find good wierdetude these days, other than rare exceptions like ANIMAL LOGIC. The album abounds with color and nuance, as on the premiere single, "There's A Spy (In The House Of Love)," with its broad-faced theme and tricky rhythms. Much of Deborah's music has a country cast to it, heard most distinctly in "I'm Through With Love," an exuberant country-calypsoish tune; "Winds Of Santa Ana," one of several songs featuring a deftly played banjo; and "As Soon As The Sun Goes Down."
"I Still Feel For You" and "Someone To Come Home To" are both potent rockers, while "Elijah" and "Firing Up The Sunset Gun" prove two of the album's most emphatic pieces. "Elijah" features a zonked-out piano solo by Copeland and a thrilling L. Shankar violin solo. The last song, "I'm Sorry Baby (I Want You In My Life)," the album's most unusual piece, is a lightly melancholy jazz ballad featuring an understated trumpet solo by Freddy Hubbard. The song - and the record - ends with Deborah's voice, high and clear, fading out on the final note.
All three principals of Animal Logic are anxious to tour and prove "we're a band, not a project." At the same time, Copeland has some other irons in the fire. He's become an in-demand film music composer in recent years, with pictures like "Rumblefish," "Wall Street," and "Talk Radio" under his belt. This October, he is set to debut "Holy Blood And Crescent Moon," his first full fledged opera, with the 65-piece Cleveland Opera Orchestra and 70-voice chorus. "I don't sing in it, but I do get to lead the charge in a couple of battle scenes," says the Wagner-crazed composer.
Clarke has been busy as well, scoring TV and theatrical films, and continuing his groundbreaking advances in the art of the bass.
However, the central focus now for Copeland, Clarke, and Holland is Animal Logic and its inevitably bright future. Says newcomer Holland of her famed bandmates, "I couldn't have asked for a more perfect situation. I never felt that working with them was different from working with any other musicians, except that they happen to be the best in the world at what they do."
There's a palpable excitement when musicians of this caliber come together to make music, and on ANIMAL LOGIC, there's no mistaking this band's enthusiasm. In a world where too often art imitates artifice, the music ofAnimal Logic is real and, considering the players, doesn't that make perfect sense?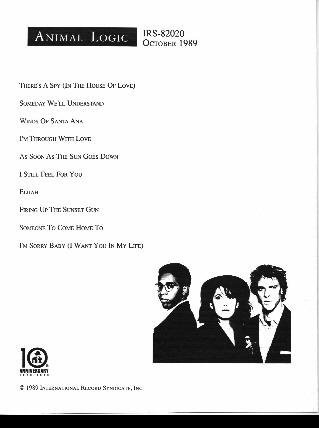 ---
articles | biographies | discography | lyrics | photos | press releases | songs | tour dates
Webmaster © 1999 All Rights Reserved